My name is Björn. I am the creator of Velodrom – the popular brand of sport glasses. This is how it happened.
The idea of designing special bikers' glasses came to me after I grew fed up with bad motorbike glasses. I was tired of dust in my eyes, impaired peripheral vision, thick arms pinching under the helmet. A biker since 1975 I had tried everything from expensive High Street optician models down to cheap stuff at petrol stations. None of these glasses cured the wretched terrors of discomfort and bad visibility. Many of them didn't even look good. My eyes kept running.
I certainly didn't want to wear goggles all the time. I wanted glasses that offered comfort and safety, and I wanted to look smart. So in 1988, I finally decided to do something about it. I lived in Taiwan at the time and took the opportunity to sit down with the manager of one of the best eyewer companies in Taipei and discuss my problem (in Chinese of course, as I was fluent in those days).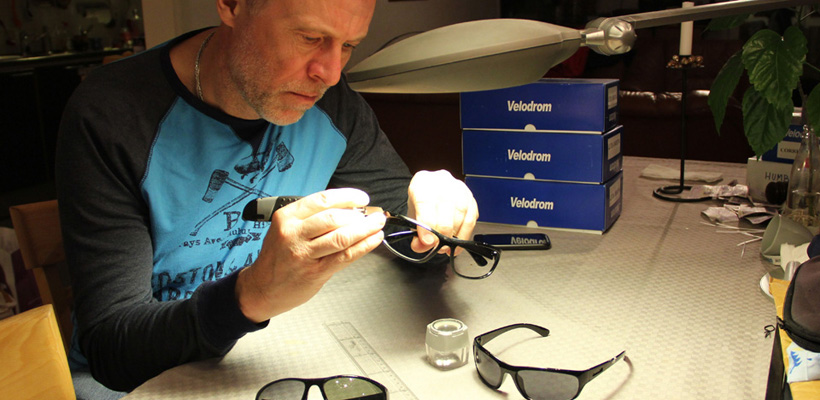 The result is the Velodrom line of Biker Shades and Sport Glasses. We don't shop for fashion glasses at fairs in Milan or China. Instead, we build our products from scratch, based on a set of functional requirements, mainly concerning safety and comfort. We're involved in action sports ourselves. We know what it takes. All frames are made of flexible material with no sharp details, and the shape shuts the wind out. The UV400 lenses are dark enough to shield out the strongest sun but still light enough to give acceptable visibility in tunnels, in bad weather conditions or at dusk. Velodrom was one of the first brands that offered yellow high-definition lenses as a standard alternative on all its models.
With a unique combination of functional design and carefully chosen, high-quality materials, we have created a collection of sport glasses that protect your eyes and enhance your view when you need it most – in traffic or at high speed on a race track, at sea or on a narrow mountainbike trail. Our glasses are good for all outdoor activities, whether you're trekking at high altitude or strolling on the golf course.