When we developed Palermo, we were looking for something distinctively Italian. Who can resist Italian seventies design?  A hungry, aggressive pair of glasses that dares you to brush by every stone wall along your wild, winding ride. This streamlined, face-hugging model still leaves room for your eyebrows. It follows the form of your cheeks and shuts out light from the side, even if you're wearing a light, open helmet.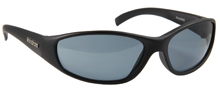 Palermo Smoke (VEL31)
Palermo Nightrider is sold out and discontinued.
Protect your glasses. Grab our new hard case that stores your glasses safely also when they bounce around or get squeezed in an unfriendly environment. This cases is specially designed to fit Velodrom sport glasses with a minimum of unnecessary extra volume. Made of metal covered with elegant leatherette.

Hard case VEL55
Recommended price at your dealer: Palermo 34.50 €, Hard case 5 €.